The 2019 Jeep Cherokee in Detroit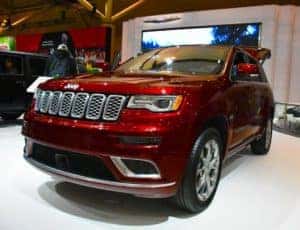 If you spend a lot of time driving off-road or you need a car with a lot of capabilities, then you should look at the new 2019 Jeep Cherokee. It is designed to get a lot of things done and has a lot of features that you will enjoy. It can be the best combination of city, highway, and off-road driving features for your needs. If you are looking for a new car, here are three reasons why the 2019 Jeep Cherokee should be your next car.
Parking Assist
Parking can be difficult for most people, especially parallel parking. Sedans and other small vehicles have an easier time of it, but most people are moving toward larger SUVs and crossovers. That is why the 2019 Jeep Cherokee is equipped with Jeep's new ParkSense parking Assist System. It uses the available rearview camera and radar systems to sense the parking spot and other obstacles. Then, it guides you through the parking process. All you have to do is turn the wheel and use the pedals according to what the ParkSense system tells you, and you'll be able to park everywhere. 
Full-Speed Forward Collision Warning and Braking
If you drive in the city often, then you can take advantage of the Full-Speed Forward Collision Warning and Braking System. It uses the same type of radar sensors as the ParkSense system to look for obstacles in front of your vehicle. If it senses that a collision is imminent, then it will warn you. Plus, it can activate the brakes if the collision is very close to help you avoid or minimize the damage. It is a great feature to have when driving near schools and busy walkways.
Water Fording, Traction Control, and Ground Clearance
Some of the most interesting features that are available in the 2019 Jeep Cherokee are integral design changes so that it can go almost anywhere. For example, you can drive through flooded areas with fewer worries since the Cherokee was fitted for water fording. It has a high air intake for the engine, a high ground clearance, and a better-sealed bottom half to keep water out. It also has Jeep's legendary traction control systems so that it can drive up high inclines and in loose terrain. That way, you won't get stuck wherever you drive.
Driving in the Jeep Cherokee can be a lot of fun with the right features. You just have to know where you want to go. It can get you almost anywhere with few problems. There are several trim packages and levels to choose from, so you can find one that fits your needs perfectly. To get the most out of a Jeep Cherokee, you'll want to work directly with your nearest dealer. They can help you explore the different features in detail and help you customize a Cherokee to your specifications. That way, you'll have the perfect car no matter where you drive.