3 Charming Pumpkin Patches Around Detroit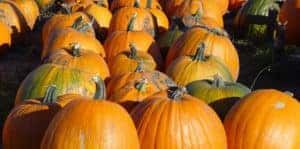 Whether it's picking the best option for your Halloween jack-o'-lantern or choosing an amazing centerpiece for your Thanksgiving feast, a full, round pumpkin goes a long way. It embodies the spirit of the season while also bringing together your favorite people for a holiday celebration. More importantly, picking the perfect orange sphere with your family is sure to be an unforgettable experience. If you live in or around Detroit, check out these pumpkin patches that are downright charming.
Bennett's Orchard
Located an hour south of Detroit near the Ohio border, Bennett's Orchard is a family-owned farm that's been the place to go for pumpkin-picking for over 50 years. The orchard features massive pumpkin patches along with apple orchards for you to hand-pick some of nature's finest. If you're 21 and in the mood, don't miss out on Bennett's handcrafted hard apple cider, which is a nice consolation after a long day of harvesting.
Bennett's Orchard is located in Ottawa Lake, Michigan. The hours are from 9 a.m. to 7 p.m. Monday through Friday, 9 a.m. to 6 p.m. on Saturday, and 10 a.m. to 5 p.m. on Sunday.
Farmer Charley's Kackleberry Farm
No one's quite sure what a kackleberry is, but if you're searching for the ultimate pumpkin patch, head over to Farmer Charley's Kackleberry Farm in Monroe. Located just 35 miles south of Detroit, Kackleberry Farm is close enough for a day trip with the kids without the griping of a long journey.
The pumpkin patch is surely a treat, but don't miss out on their famous corn maze, bonfires, and other events that are fun for kids from 1 to 92 (shout out to Nat King Cole's "The Christmas Song.") If you're in for something outlandish, pick up a pumpkin and stay for the Goat Yoga, which takes place every Monday and Friday from June until late fall. During this event, you'll do yoga while joined by seven Nigerian Dwarf goats. You just might feel like a caprine Snow White.
Oh, and if you have teenagers, send them over to the Chick-a-Bunga pumpkin cannon. Let your loved ones launch a pumpkin into the sky and into beautiful destruction with extreme prejudice. Shoot three pumpkins for $5, eight for $10, or the bargain deal of the century — $20 for 20 cannon bursts. Hours vary.
Obstbaum Orchards
Head west on Interstate 96, do a little jog north, and you'll arrive at Obstbaum Orchards in Northville. Located just next to the beautiful Maybury State Park, this orchard's creme de la creme is cherries, but they still have a pumpkin patch that shouldn't be ignored. They don't grow the pumpkins on site, but they source from local farms for a top-notch selection.
That said, you can often pick cherries in the fall or grab a bottle of cherry concentrate, which is awesome for fall cocktails and cordials.
Bring a lively spark into your fall holidays with a pumpkin. Aside from a heaping sack of candy or a huge slice of turkey, it's the next best thing.