4 Budget Friendly Things to Do in Detroit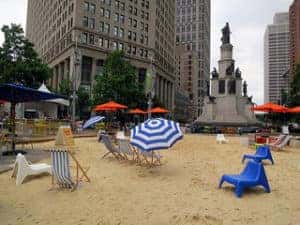 Detroit is Michigan's biggest city and fills up a portion of its space with some of the state's most exciting and impressive attractions. Best of all, the ones we've covered on this list are all budget-friendly. So, no matter what's on the agenda, you don't have to spend much (or anything at all) to get your fill of recreational fun in Detroit. Here are four of the cheapest things you can do in the area.
View the Exotic Fish at Belle Isle Aquarium
Crowned the oldest aquarium in the United States, Belle Isle Aquarium has continued to charm and captivate visitors since its inauguration in 1904. From the intricate arched entryway to the opalescent green-tiled glass ceiling, Belle Isle Aquarium is quite the visual and architectural gem.
It also happens to house stunning collections of fish from across the globe, including the Mbu pufferfish and lungfish from Africa to the electric eel and piranha of South America. Entering the aquarium won't cost you a thing either, but keep in mind you'll need to purchase a Recreation Passport in order to drive into the park, which costs up to $11 per car for Michigan residents.
Relax and Unwind at Campus Martius Park
Campus Martius Park is a popular downtown hub for visitors of all ages. Here you'll get to sit on a gorgeous green lawn flanked by stunning botanical gardens, captivating skyline views, and 400,000 pounds of sand used to build an urban beach with lounge chairs and tropical ambiance.
The park also houses a monument set in bronze and granite that honors Civil War veterans, as well as 22-foot-tall Monroe and Woodward markers that light up in a serene glow at night. And if you need something to do during the winter, Campus Martius offers a seasonal skate rink with free admission that is open until March 3.
Explore Marvin's Marvelous Mechanical Museum
Situated within a shared space of 5,000 square feet is Marvin's Marvelous Mechanical Museum, an odd yet free attraction that's home to a variety of interesting trinkets and charming collectibles. Here you'll find antiquated coin-operated machines, modern game gadgets, film posters, model airplanes, and vintage relics. It also offers free Wi-Fi in the on-site cafe so you can connect to the internet, a photo booth so you can capture your memories, and an extensive collection of prizes that you can cash in your tickets for.
Enjoy a Hands-on Experience at the DNR Outdoor Adventure Center
The DNR Outdoor Adventure Center has a little something for everyone to enjoy. For instance, you'll find a preschool play area, open archery classes, and 20 unique exhibits such as Underwater Michigan, where more than 150 fish species reside, and the Big Tree, a 35-foot-tall oak tree featuring a suspension bridge and black bear den. Regular admission ranges from $3 to $5, but you get in free on the last Wednesday of the month between 6 and 8 p.m.
Even if you're on a budget, you don't have to sacrifice fun for affordability. These top four activities in the Detroit area offer up the best of both worlds.
Image by Daniel Lobo is licensed under CC0 1.0