5 Best Bars for After-Work Drinks in Detroit's Financial District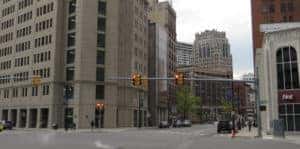 Detroit's financial district is one of the most historic areas of the city. It is home to large skyscrapers that house local and national businesses, and it is the heart of the downtown area. With many people heading to the financial district for work each day, there are many area restaurants and bars catering to this crowd. These are some of the best bars for after-work drinks in Detroit's financial district.
The Keep
The Keep sits in Cadillac Square and is an underground cocktail bar in the sense that it actually sits underground. This place serves up great cocktails that range from $5 to $9, and they have Happy Hour Monday through Friday from 4 to 7 p.m. There are also some great menu items if you want to grab an appetizer before you go home for dinner or grab a full meal after a long day at work. 
Downtown Louie's Lounge
Downtown Louie's Lounge on Clifford has happy hour Monday through Friday from 3 to 6 p.m. for the early crowd. You can get domestic bottled beer for just $2 and house wines for just $5. All appetizers are $2 off, and well pours are $5. The food at Downtown Louie's is very good with appetizers that include calamari, jumbo wings, and crispy Brussels sprouts. You can even get aged cheddar rillettes or fried mushrooms.
Dime Store
Check out Dime Store on Griswold Street for happy hour specials during the week. The discounts depend on what time you visit. They start at half off alcohol from 3 to 4 p.m. and go down to 40% for the next hour and 30% from 5 to 6 p.m. You'll want to get there early for the best deals. You can also get some delicious food to go with your drinks such as pork rinds, house fries with truffle mayo, or a Korean barbecue sandwich.
The District Bar and Grill
Head to the District Bar and Grill for happy hour from 4 to 7 p.m. You can get $6 Long Island ice teas, domestic beer bottles for $3.50, and well drinks for just $4.50. All other drinks are $1 off during happy hour, and there are also additional daily specials. For example, Mondays they offer $6 mojitos as well as $2 off appetizers from 4 p.m. to close, and on Wine Down Wednesdays you can get half off house wines and $2 off appetizers.
Grand Trunk Pub
The Grand Trunk Pub is another great option for after-work drinks. This happy hour starts at 4 p.m. and offers $3 mystery beer bottles. There are also other drinks specials along with smaller versions of their sandwiches, including the infamous Finnegan with marinated grilled chicken, fresh mozzarella, and tomato-basil aioli. You can also get discounts on draft beers.
Check out these bars and restaurants in Detroit's financial district for good food, excellent drinks, and some great deals. Bring all your friends from work, and make it an early night before heading home.