5 Michigan Road Trips for Great Instagram Photos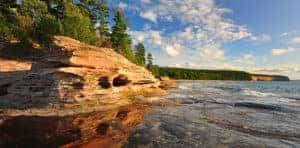 Jack Kerouac made road trips adventurous and mysterious in his best-selling novel "On the Road." There's a chance, if the Massachusetts-born writer was alive today, that his book would now be a carefully-curated Instagram feed.
It's not a great road trip if you can't share your best shots on social media, right? Here are the top five Michigan road trips for great Instagram photos.
Photogenic Lighthouse at Port Hope
There's something incredibly appealing about a small town that just makes you want to take that detour and look closer. Port Hope, "the little town with a big welcome", is all that.
The 4th of July Festival is the must-see attraction of the summer, but it's the Pointe aux Barques Lighthouse that gets all the attention on Instagram. And if you want to stick around Port Hope for a little longer, stay at one of the Lightkeepers Vintage Cottages with a view of Lake Huron.
Dutch Heritage at Holland
There are places in America that will have you thinking you've left the country without noticing it. Holland is one of those places.
With a strong Dutch heritage, the Flemish-style-inspired windmills and the yearly Tulip Time Festival will absolutely transport you to Europe in a heartbeat. Weather permitting, head over to Laketown Beach by Lake Michigan for the perfect #footselfie.
Nature's Masterpiece at Pictured Rocks
There's a reason why there are over 11 million photos (and counting) of waterfalls on Instagram. It's one of nature's creations that never ceases to amaze you.  At Pictured Rocks National Lakeshore you get to see two of the most Instagrammable natural attractions: epic waterfalls and multicolor sand cliffs. Take some time off from driving to kayak in Lake Superior and fill your Insta feed with stunning pictures.
Strike Two Countries at Once at Belle Isle
What about taking the ultimate selfie? And, no, we're not talking about mastering the art of duck facing or the need to splurge on a state-of-the-art selfie stick. At Belle Isle, you can actually make all your friends and Instagram followers turn green with selfie-envy.
Besides a political border, the only thing separating the USA and Canada is the Detroit River. So, get that ultimate selfie with both feet in the south end of Belle Isle and Canada in the background.
Different Shades of Lilac at Mackinac Island
You can visit Mackinac Island any time of the year and not be disappointed at the countless photo opportunities that the jewel of the Great Lakes has. But if you are really looking for a way to make your feed pop, head over there during the annual Lilac Festival in June. A grand parade with horse-drawn carriages and the coronation of the Lilac Festival Queen are just a few of all the quaint details you can capture with your smartphone.
The allure of the open road has inspired all kinds of artists and artistic work. Sometimes an Instagram shot is just that, but with these road trip tips, the sky is the limit (preferably with #nofilter).
amer0277 via Flickr by NOAA Photo Library used under CC BY 2.0