5 Outdoor Concerts to Look Forward to This Summer Around Detroit, MI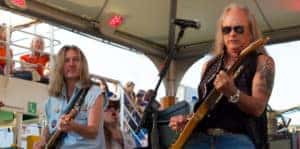 One of the best things about the summer is relaxing outside in the evening. Even late into the night, the temperature is still comfortable, and no one is in a rush to get home. A fun way to spend those late summer nights is to attend an outdoor concert. Here are five outdoor concerts you can look forward to this summer around Detroit, Michigan.
Lynyrd Skynyrd
If you love classic rock, this is a concert you won't want to miss. Lynyrd Skynyrd has produced more than 60 albums over the last 40 years and will be saying goodbye with their final Last of the Street Survivors Farewell Tour.  Lynyrd Skynyrd has iconic hits like "Sweet Home Alabama," "Free Bird," and "What's Your Name," and was named by Rolling Stone as one of its 100 greatest bands of all time. 
They will be joined by The Charlie Daniels Band, The Marshall Tucker Band, and Jamey Johnson and will be performing at DTE Music Energy Theatre on Friday, August 10 at 6 p.m.
Chicago and REO Speedwagon
Another big concert is happening on August 12. Chicago and REO Speedwagon, both hugely successful and multi-platinum selling groups, will be playing at the DTE Music Energy Theatre together. This will be a unique concert, as Chicago will play their entire album "Chicago II," followed by the world's longest encore. REO Speedwagon will start the night with favorite hits like, "Can't Fight This Feeling," "Keep on Loving You," and "Take It on the Run." Plan on arriving by 7 p.m., because they will take the stage at 7:30 sharp.
War
As part of the Rockin' on the Riverfront Free Summer Concert series comes the American funk band, War. You can catch the concert outside of the GM Renaissance Center in the heart of Detroit on August 17 from 7:30 to 10 p.m. They reached the height of their popularity in the 1970s and are known for several hit songs, including "Spill the Wine," "The World is a Ghetto," "The Cisco Kid," "Why Can't We Be Friends," "Low Rider," and "Summer."
Rascal Flatts
For country fans, Rascal Flatts will be on their Back to Us Tour this summer. They enjoy helping break out new artists and have invited Dan + Shay and Carly Pearce as their special guests on the tour. They have had many number one country singles including songs like "Mayberry," "What Hurts the Most," "Banjo," and "Yours if You Want It." You can catch the concert at DTE Music Energy Theatre on August 18 at 7:30 p.m.
Miranda Lambert and Little Big Town
Miranda Lambert has won ACM Female Vocalist of the Year for eight years running. Little Big Town has won CMA Vocal Group of the Year six consecutive years and has won ACM Vocal Group of the Year four times. Together, they are on The Bandwagon Tour. You can catch the concert at DTE Music Energy Theatre on August 24 at 7 p.m.
These are just a few of the many concerts going on this summer. Grab your tickets while they are still available, and enjoy the summer evenings before they slip away.
Lynyrd Skynyrd at Simpleman 2011 via Flickr by joncallas, used under CC BY-SA 2.0