5 Summer Family Days Out in Detroit, MI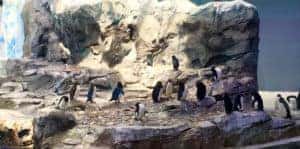 Since being named by Lonely Planet as the No. 2 city in their Best in Travel 2018 list, Detroit seems to be the most popular American urban destination to visit these days. But, don't worry, that doesn't mean it's overrun by tourists and you can't have some quality time with your family.
Here are our top five suggestions for a summer day out with your family in Detroit.
Unleash your Creativity at the Detroit Institute of Arts
How do you turn a visit to a museum into fun for the kids, too? You select a place with lots of cool activities for the younger members of the family while you explore art masterpieces.  The Detroit Institute of Arts (also known as DIA) hosts fun events during the summer for families, whether it's a free guided tour of the museum's collections, a drop-in workshop, or one of their Drawing in the Galleries activities.
Learn More About Polk Penguins at the Detroit Zoo
If you're not quite sure how to entertain the whole family, zoos are always a safe bet. Kids (and adults) get to see different animals in their natural habitat and learn more about the conservation of endangered species. The Detroit Zoo has been part of local life since the 1880s. What's the biggest star there? The over 80 penguins you can see and learn about at the Polk Penguin Conservation Center.
Be Adventurous at the Giant Slide in Belle Isle
There are lots to see and do at Belle Isle Park: the Aquarium, the Nature Center, the Anna Scripps Whitcomb Conservatory. But do you know what you're kids will probably be eyeing by the time you get there? The giant slide. It costs $1 per ride and, if you're not too afraid of heights, you can join your kids in the fun. Well, at least until they grow tired of it. The only question you have to ask is will your kids ever grow tired of it?
Go Back in Time at the Henry Ford Museum
These days, it's almost hard to remember a time when you weren't so dependent on technology and when all information was readily available on the internet. For kids, that's even harder to grasp. Instead of giving them a lecture about "back in my day," go back in time at the Henry Ford Museum.  Here, you can learn about American innovation, get a closer look at the vehicles that shaped the country's culture and see the bus in which Rosa Parks challenged segregation.
Become a Scientist for a Day at the Mi-Sci
If you want to combine fun with learning, the Michigan Science Center (Mi-Sci for short) has over 300 exhibits with hands-on, real-life experiences to keep your kids busy. Delving into engineering or physics in a fun environment might just inspire your kid to be the next explorer in the outer space.
Now you have a tough decision: Which one of these five activities will your family want to do first?
Detroit Zoo penguins at Polk Penguin Conservation Center via Flickr by Gregory Varnum, used under CC BY-SA 2.0