A Closer Look at the Detroit Institute of Arts
The Detroit Institute of Arts is so much more than a museum. With over 658,000 square feet, the facility includes over 100 galleries, a state-of-the-art conservation services laboratory, a 380-seat lecture hall, a 1,150-seat auditorium, and an art reference library.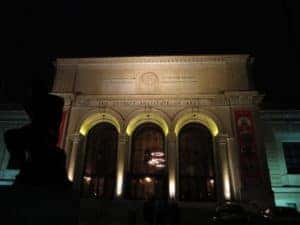 The DIA's collection is as diverse as it is massive. It is ranked in the top six in the United States with over 65,000 works. The collection includes American, European, Modern and Contemporary, and Graphic Art pieces. It also houses works of art from African, Native American, Oceanic, Islamic, and Ancient Art cultures. Here's a closer look at what the Detroit Institute of Arts means to the community and the greater world of art.
American Art
Their collection spans from 1660 to 1950 and includes over 5,000 pieces from North, South, and Central American artists. Come see paintings like John Mix Stanley's Indian Telegraph painting. This 1860 oil on canvas painting depicts the Apaches warning their friends of the advancing army of General Kearny with smoke signals along the Gila River.
Check out the breathtaking Winter Landscape by Mortimer L. Smith. This 1878 oil on canvas painting is so life-like, it will make you shiver as you look at the snow-covered landscape and frozen river.
African, Oceanian, and Indigenous American Art
The DIA's African Art collection is one of the finest in the world. They have over 2,500 pieces — masks, sculptures, instruments, and more — from over 100 different African cultures, all dating back centuries.
This collection also includes 3,000 years worth of Egyptian artifacts. You can marvel at mummies, scan old manuscripts, or decipher fragments of wall art.
Their Native American galleries are comprised of nearly 4,000 objects, from textiles and masks to pottery and tools. The collection covers Indigenous American tribes from Canada to Peru, and everything in between dating back 3,000 years.
Arts of Asia and the Islamic World
Beginning with the Ancient Middle East you can explore the culture advancing through 9,000 years of discovery and invention. Metalwork, textiles, clay writing, and more are all represented in this historical journey through the Middle East.
The Arts of the Islamic World showcase woven silks and rugs, metalwork, and decorative textiles dating back over 1,400 years. You'll discover the rich diversity of language, religion, and social complexity of a region steeped in history.
Asia's art history goes back nearly 4,000 years. See how China used artistic techniques with ink on silk to capture the essence of their subjects. View ancient bronze vessels used in rituals, and hand-crafted burial pottery. The DIA's collection has some of the first porcelain dishes ever made, alongside scroll paintings, inlaid lacquer ware, and other sculptures from all over China.
The Korean collection depicts the unique culture through ancient texts, artistic paintings, and spans over 3,000 years. View objects used in every day life to those in ritualistic and religious ceremonies.
The DIA is truly a treasure trove of art and artifacts, and cannot be seen in one visit. But visit once and you'll be back, again and again.