Awesome Places to Grab Brunch in Detroit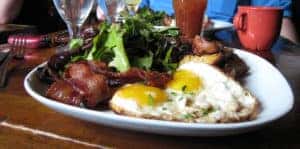 Nothing beats a truly delicious brunch. It's not quite breakfast, not quite lunch, but the perfect sweet spot between the two. Brunch is a chance to indulge yourself while catching up with friends, make up for skipping breakfast or grab an early lunch. Detroit has some truly spectacular places to get the finest brunch around. Here are six of the best.
La Dolce Vita
If you've got a hankering for some classic Italian cuisine and an eatery offering an eclectic and delightful brunch menu, then look no further than La Dolce Vita.
One of the best-kept secrets in Detroit this is an absolute gem of a restaurant offering delicious food, tucked away from the crowds and hustle of modern life. The outdoor patio offers classy dining in the spring and summer, and you can relax and enjoy your shrimp Benedict and
salmon hash while listening to the smooth sounds of jazz.
If you fancy a low key and utterly delicious Sunday brunch, pop in wearing your pajamas — you'll be in good company!
Batch Brewing Company
A nano-brewery in Corktown, Batch Brewing Company has been beefing up the weekend menu with an exciting brunch menu featuring treats like shrimp and grits, pork belly Benedict biscuits, Monte Cristo bread pudding, and breakfast pastries. Grab a coffee or a beer to wash it down, or go 50/50 and indulge in a beer and coffee cocktail.
Lady of the House
A bar and restaurant that gives you the perfect start to the day, Lady of the House offers the perfect brunch service. Grab a plate of chicken fried duck or some delicious buckwheat crepes loaded with pecans, orange syrup, and whipped cream, or try the ham terrine and a little rye toast topped with seasonal spreads.
If you have a sweet tooth, the foie gras cinnamon rolls and an Irish coffee are a perfect combination.
Brooklyn Street Local
For a casual and cozy brunch, Brooklyn Street Local offers the perfect destination for decent poutine without having to cross the river. Other items on offer on the brunch menu range from delicious quiches to banana pancakes loaded with yummy caramelized walnuts. If you're a little worse for wear, try the Hangover Special: a delicious platter of breakfast meats, toast, eggs, and poutine.
Parc
Parc is the perfect destination for a lazy Sunday morning. The restaurant has a wide, open feel to it, reminiscent of a patio bar, thanks to stylish glass walls. It offers brunch choices ranging from light bites and fruit bowls drizzled in honey yogurt with lime, to the sweetest cinnamon roll bread puddings or delectable omelets.
Le Petit Dejeuner
A brunch bistro with a lot of charm, Le Petit Dejeuner offers a range of delicacies including chocolate crepes, creamy corn pancakes, toppings ranging from ricotta to raspberry sauce, and caramelized banana French toast. Classic dishes like omelets are also on the menu, ensuring there's something for everyone.
With so many great places to eat, Detroit is the perfect place to grab a spot of brunch.
Brunch via Flickr by Librarian Avenger is licensed under CC BY 2.0