Best Italian Eateries In Detroit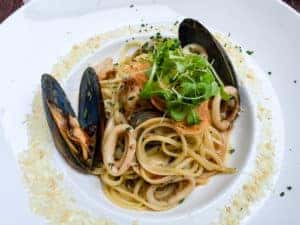 Detroit is home to a great many Italian restaurants that make you feel as though you've been transported back to the old country. Whether you're looking for modern takes on classic dishes, or the most authentic Italian food the city offers, there's a restaurant for you.
Here are some of the best Italian eateries you'll find in Detroit:
Ottava Via
For thoughtful Italian dishes made to perfection, Ottava Via is a great choice. Their handsome modern interior lends itself well to the chef-inspired dishes on their thorough menu.
Start off with any of their simple yet delicious small plates before moving onto a wood-fired pizza or any of their pasta creations. You'll also find non-pasta entrees, such as duroc port chops, Mediterranean sea bass, farmhouse chicken, homemade gnocchi, and more. If you're looking for a picturesque dinner to enjoy in a pleasant, reminiscent atmosphere, reserve a table at Ottava Via.
Cantoro Trattoria
Contoro Trattoria is the award-winning restaurant that's tucked away in the Cantoro Italian Market in Plymouth. At this market, you'll find everything you need to make the best Italian dishes at home, but if you want to leave it up to the experts, stop by the restaurant.
You'll find some of the most authentic Italian dishes you'll ever taste at Cantoro Trattoria. Choose a full three-course dinner from their menu, which is full of salads, pasta, and delicious meat entrees. If you show up for lunch, you'll enjoy their great wood-fired pizzas and paninis.
Cafe Cortina
Cafe Cortina has been offering delicious Italian fare in beautiful settings since 1976. Lunch or dinner, everything we've tried at Cafe Cortina has been top-notch. For foodies, there's no better place in Detroit.
They use an on-site garden to make many of the ingredients they use in their dishes in the summer. During the off-season, they source their ingredients from Italy, locally, and from California, always with a discerning eye for quality. Pasta with braised Spanish octopus, stuffed quail, grass-fed sirloin, salmon from the Faroe Islands, potato dumplings — there's something for everyone on their rich menu.
Enjoy their chef-inspired dishes outside near their gorgeous garden, or in their charming indoor seating. Either way, this is one of the best Italian food experiences you'll find in Detroit.
Bigalora Wood Fired Cucina
If you're looking for a more casual, but no less delicious dining experience, Bigalora Cucina is the way to go. This is the place to be if you're looking for pizzas done fantastically well. The pies that come out of their wood-burning oven will make you want to come back as soon as possible.
Though they're most well-known for their pizza, you'll also find a great selection of pasta and entrees such as chicken parmesan, wood-roasted salmon, and Tuscan steak frites. If you're looking for a place to visit with friends, share a few drinks, and dig into some great Italian food, Bigalora is your spot.
The restaurants on this list will satisfy anyone looking for an unforgettable Italian food experience. Explore the world of Italian food, all from Detroit's backyard.
Image provided with

 Some rights reserved by ultrakml