Best Detroit Lakes to Fish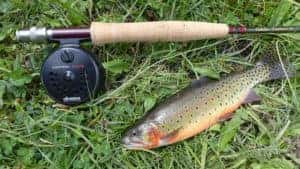 If you're like many people in the Detroit area, then your idea of a fun weekend is hooking your boat to your truck and heading to a nearby lake for some fishing. In and around Detroit, there are several lakes teeming with fish, meaning you can spend an entire day casting out your line and reeling in your catch. Here are a few of the best lakes to visit in the Detroit area the next time you're in the mood for a fishing getaway.
Lake St. Clair
The next time you want to take your boat out on the water for some world-class fishing, there's no better place to visit in the Detroit area than Lake St. Clair. At this lake, you'll find a variety of fish including small-mouth and large-mouth species, you may even be able to catch some panfish as well.
Fish over five pounds aren't uncommon, so when you cast your line, you may just be able to haul in a whopper. Lake St. Clair is fed by the Detroit River, so if you're interested in fishing both of these waterways, you should consider getting a Michigan fishing license and one from Canada as well so that you'll have as many options as possible.
Lake Erie
Lake Erie is another excellent fishing spot to visit in the Detroit area when you want to spend a day on your boat. Like most of the lakes that you'll find in Michigan, Lake Erie is filled with a variety of species, so every time you cast out your line you may be able to catch something new.
Species that you can fish for in Lake Erie include yellow perch, smallmouth bass, rainbow trout, and walleye. To fish in Lake Erie, you're going to need your state fishing license. You can also purchase one- to three-day temporary licenses if you just want to try out this spot. Just remember that a restricted license limits the species you can fish for, which means you'll need to throw back any lake sturgeon, salmon, lake herring, and trout that you hook.
Lake Huron
If you've been itching to haul your boat to a lake for a weekend of fishing, Lake Huron is an excellent spot to visit. While you're floating on the waters of this Great Lake, you'll be able to cast for a number of species and you may just drive home with a cooler full of fish.
The fish that you can catch in Lake Huron will depend on the time of year that you're fishing, as well as where you set off in your boat. Some of the many species that you'll find in this lake include whitefish, yellow perch, northern pike, and lake sturgeon. Before you set out, make sure that you have your Michigan fishing license so that you won't be restricted while you're on the water.
There are a lot of ways you can have fun in the Detroit area, including fishing on one of the many gorgeous lakes. Hook your boat to your truck and head to any of the lakes on this list for some of the best fishing of your life.