Best Parks in Detroit, MI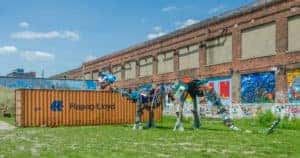 Detroit is a big city with lots of parks. You can't try them all out, but learning more can lead to finding some favorites. We've listed a few parks that we think you should visit whenever you're in Detroit.
William G. Milliken State Park and Harbor
The William G. Milliken State Park and Harbor, located just east of downtown Detroit, covers 31 acres and includes a 52-slip harbor, shoreline fishing, paved trails, wetlands, and a picnic area with pavilions. A 63-foot-tall brick lighthouse tower, a smaller replica of the Tawas Point Light, marks the entrance to the harbor. Because 97 percent of the original wetlands along the Detroit River had been lost because of development, much of the state park was redeveloped to be restorative wetlands. The Michigan DNR's goal is that the wetlands attract migratory birds.
Formerly known as Tri-Centennial State Park, the park was renamed in 2009 in honor of Gov. William G. Milliken. You'll find it at 1900 Atwater St.
Beacon Park
If you haven't been to Beacon Park yet, you're missing something innovative and fantastic. The 1.2-acre park, which opened July 20, 2017, uses light, motion, and energy from DTE Energy to form distinctive spaces and interactive light displays that visitors won't soon forget. Beacon Park has a contemporary restaurant, Lumen Detroit, that has rooftop dining and garden space for stunning downtown views. You'll also find food trucks and carts. Beacon Park hosts events such as yoga and cardio evenings.
This park is still evolving, so you'll want to keep checking for new events and activities. Find Beacon Park at 1901 Grand River Ave. Hours are 6 a.m. to 10 p.m. daily.
Lincoln Street Art Park
Lincoln Street Art Park is a contemporary sculpture park created in 2011 on a former industrial site. The urban space is meant to inspire and bring joy and creativity. This park is a collaboration of a community of local artists, the Recycle Here center, the Michigan Council for Arts and Cultural Affairs, and the Detroit Parks & Recreation Department. The look continually evolves as new pieces enter and new murals are painted. Large-scale sculptures, such as Frank the Dinosaur, are made from recycled or salvaged materials, providing opportunities for education on the reuse of materials that might otherwise be discarded.
The park, located at 5926 Lincoln St., is frequented by neighborhood locals, but visitors are welcome. A Full Moon Party is held once a month.
Palmer Park
Palmer Park is a multi-use space named for U.S. Sen. Thomas Witherell Palmer, who donated land with the stipulation that the virgin forest be preserved. The park's historic highlight is the Palmer Log Cabin, completed in 1887, is near Lake Frances, an artificial lake named after Palmer's mother-in-law. Other attractions include the 18-hole Palmer Park Golf Course, the Merrill Fountain, handball courts, the Old Spanish Bell, and Palmer Park Splash Park. Palmer Park is at 910 Merrill Plaisance.
From restorative wetlands to light displays to urban art to history, we've selected these four diverse parks that have plenty to offer yet have potential for positive change. Be sure to visit them when you're in Detroit.