Everything You Need to Know About the 2018 Charger GT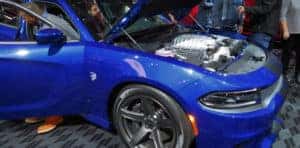 2018 has seen the addition of both the GT Plus and SXT Plus trims in the lineup for the Dodge Charger, and they really very impressive. Coming with 300 horsepower as standard as well as performance packages including gorgeous alloy wheels and a cracking infotainment system, there's a lot to love. Here's everything you need to know about the 2018 Charger GT.
High Performance
The standard engine coming with the Dodge Charger is a V-6 3.6-liter variant capable of providing 292 horsepower (or 300 horsepower with the addition of the Super Track Pak). Add to this an impressive 260 lb-ft of torque (boosted to 264 by the Super Track Pak), the capacity to deliver 18/27 mpg, and an all-wheel-drive system exclusive to the GT's V-6 engine, and it's a very impressive motor capable of doing zero to 60 mph in just 6.4 seconds.
It's also capable of stopping at that speed in just 110 feet.
Safety
Receiving the highest possible overall safety rating of five stars from the NHTSA, the 2018 Dodge Charger is an exceptionally safe drive in both its rear-wheel-drive and all-wheel-drive formats. With excellent marks all across the board where safety is concerned, the Charger also performed exceptionally well in IIHS testing, receiving scores of Good and Superior, with particular attention paid to the vehicle's excellent collision avoidance abilities.
This is thanks to the automatic emergency braking system that comes in the Technology and Premium packages for the Charger. You'll find the Technology package also adds additional driver assist safety features, like lane departure warning, lane keep assist, adaptive cruise control, automatic high beams, and a rain-sensitive windshield. If you're looking for even more safety features, the Hellcat and SRT 392 trims come with three packages providing blind-spot monitoring and rear-cross traffic alert, while there's a rearview camera and rear parking sensors standard for all trims.
Spacious Interior
In addition to a slick and gorgeous exterior profile and some excellent design features, the 2018 Dodge Charger is more spacious on the interior, with a trunk capacity of 16.5 cubic feet and an impressive 41.8 inches of legroom in the front seat. Passengers riding in the back will hardly be cramped either, with 40.1 inches of legroom.
Great Technology
There's plenty of technology to play with on the new Charger GT, with an infotainment system boasting a 7.0-inch touchscreen plus extras including Bluetooth, SiriusXM satellite radio, Android Auto, and Apple CarPlay. With a powerful six-speaker audio system and two USB ports included as standard, this car has all the gadgets you need at your fingertips. In addition to the infotainment screen, all models have a 7.0-inch instrument cluster display as standard.
Some of the higher trims, such as the Hellcat and SRT 392, come with an even bigger 8.4-inch touchscreen as well as navigation. You can even upgrade your six-speaker system to a 10-speaker Beats Audio system or the equally impressive 19-speaker Harman Kardon audio system.
With so many great features, the Charger GT is a great choice if you're looking for a powerful, spacious, safe, and techno-savvy car that looks and feels great.
2018 NAIAS 116 via Flickr by GabboT used under CC BY-SA 2.0