4 Family Friendly Features of the New 2018 Chrysler Pacifica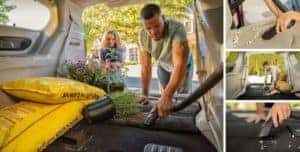 Finding a car that's family-friendly can be tough, but the new 2018 Chrysler Pacifica has everything you could want in a vehicle. Not only was the van picked as a top safety pick, it boasts seating for eight, has options to fold the back seats into the floor, and offers a fun entertainment system for kids to use. Here are a few great reasons this van is perfect for your family.
Top Safety Pick
This minivan is the only one to be named a 2017 IIHS Top Safety Pick+6, which means you can count on it to protect your family. There's a 360° surround view camera to allow you to see completely around the van by looking at the dashboard. A fully stitched image is created by the four cameras that surround it, so you can make sure no pedestrians are in your way, or that you don't run over your child's favorite bike. There is also full-speed forward collision warning to let you know visually and audibly if the system detects an oncoming collision.
Exciting Entertainment
Your children will love the entertainment options available in the 2018 Chrysler Pacifica. It's been rated the best in its class for family entertainment system with the available Uconnect Theater. Two 10.1-inch HD touchscreens come with dual HDMI inputs, a Blue-ray player, wireless streaming, wireless headphones, and Bluetooth remotes. There are plenty of apps and games available to keep your kids entertained on long road trips, so you can focus on distraction-free driving.
Stay Connected
When you're running around taking your kids to soccer practice, you don't have time to pull over and take a phone call or read a text message. With Apple CarPlay, you don't have to worry about that anymore. Your iPhone connects to the car so you don't have to take your eyes off the road. Controlling Siri with your voice or using the Uconnect touchscreen, you can make or receive phone calls, send messages, and access Apple Maps and Music. Android Auto 11 allows your Android phone to connect, allowing you to listen to music, get directions, or hear the weather forecast.
Plenty of Space
Every feature in the Chrysler Pacifica was designed with families in mind. There are up to 243 possible seating arrangements, so there's enough room for any occasion. Helping your child's school out by driving on a field trip? There's room for up to eight passengers, and everyone will have plenty of leg room. Need to stock up on some larger purchases at the store? The Stow 'n Go Seating and Storage System allows the third-row seats to fold down into the floor with the touch of a button. There's plenty of room no matter what you need to do with the van.
To check out the new 2018 Chrysler Pacifica for yourself, head into Ray Laethem Chrysler Dodge Jeep Ram today! We also have a wide selection of new and pre-owned vehicles to look at and test drive.