Mark Your Calendar for These Spring Events in Detroit
As Winter comes to an end it won't just be flowers blooming in Detroit. The city is about to be alive with things to see and do. From exciting music and motorcycles to celebrating our town, there's an endless list of events coming up. Mark your calendar for these spring events in Detroit.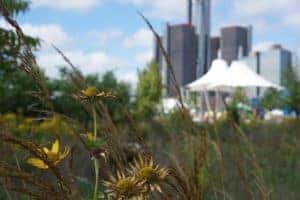 Monster Energy Supercross
If you're looking for something that is entertaining as well as exciting then check out the Monster Energy Supercross. You'll be able to see the top dirt bike riders speed around a tricky track as they race their way towards first place. Bring your earplugs because it's going to get loud! There are several heats and mini-events throughout so you'll stay entertained the entire time. Monster Energy Supercross will take place Saturday, March 21 starting at 10 a.m. 
National All Things Detroit Day 
The National All Things Detroit Day is a semi-annual event that spotlights small business owners. There will be more than 250 small businesses for you to check out to see the best that Detroit has to offer. This unique marketplace offers a one-of-a-kind shopping experience that doesn't happen very often for just $5 admission.
If you want to arrive early to get good parking and early access to booths then you can purchase tickets in advance for $20 that allow you to enter an hour early along with vouchers for food and drinks as well as a tote bag. They also have entertainment such as face painting, a photo station, and of course food. On Sunday, April 5 from 9:30 a.m. to 4 p.m. head to the Eastern Market Partnership at 2934 Russell St. for this event.
Spring Home Improvement Show
The Spring Home Improvement Show is back. On March 21 and 22 you can head to the TCF Center and check out a huge home and garden show. This is an amazing place to make plans and find ideas for your home.  There will be home makeover contests, antique appraisals, an artist market, and more. Detroit's very own Nicole Curtis from HGTV will be there for demonstrations and tips on improving your home. The Spring Home Improvement Show will take place at the TCF Center located at 1 Washington Blvd.
Belle Isle Spring into Nature 5k
The Belle Isle Aquarium is hosting a 5k marathon with all benefits going back to conserve the aquarium. It is $25 to pre-register and this is a great way to challenge yourself. Every entrant over the age of 12 will receive a t-shirt with additional give-away prizes for the younger ones you bring along. There will be medals and awards given for each age group as well. The Belle Isle Spring into Nature Run/Walk will take place Saturday, April 25 from 10 a.m. to 12:00 p.m.
Enjoy the beginning of a new season with all of these great spring activities right here in Detroit. With such a wide variety of things to do there's no way you should be spending your entry to spring stuck inside your own home.