See how the 2019 Jeep Renegade Handles the Great Outdoors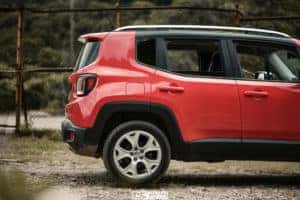 What do you need this summer to enjoy the gorgeous city weather and travel in the great outdoors? The new Dodge Jeep Renegade is a great choice for both! Here's why.
Amazing Performance
The Renegade comes with solid performance capability: It includes a powerful 4×4 system and the ability to tow up to a ton. You can choose between Jeep Active Drive or Jeep Active Drive Low, which offers a rear axle disconnect system to go between two- and four-wheel drive. That's a lot of power packed into one Jeep!
The Renegade offers an unbelievable Selec-Terrain Traction Management System with five custom settings: auto, snow, sand, mud, and rock. This will make your car especially suited to deal with whatever's in front of you on the road. Perfect for country paths or city highways, this Renegade is equipped with a stiff and strong structure, a phenomenal steering system, and a nine-speed automatic transmission. You'll get a kick out of the Hill Descent Control that monitors the throttle, speed, and braking on steep slopes.
Interior Technology
Get ready for a brand-new, one-of-a-kind driver experience with updated technology! You'll love the Uconnect navigation system, which comes with a spectacular 8.4-inch touchscreen display. This — along with Apple CarPlay and Android Auto integration capacity, Sirius All Access Package, and awesome navigation — gets you where you want to go. The Bluetooth connection will help you safely catch up with friends and family.
You'll also get a kick out of the innovative BeatsAudio Premium Sound System package. The audio is clear and vibrant, and it's expressed through nine speakers and a 506-watt amplifier.
Fuel Economy
While the Renegade has the incredible capability to get you where you need to go with full force, you'll also be impressed by its fuel economy and the two energy-saving engines you can opt for. The 1.3-liter MultiAir Turbo engine with direct injection gets up to 32 mpg on the freeway, up to 177 horsepower, and 210 pound-feet of torque. The vehicle also boasts impressive engine stop/start technology and a nine-speed automatic transmission, which generates increased overall efficiency. The other fuel-efficient engine you can select is the 2.4-liter Tigershark MultiAir 2, which offers outstanding power and torque with reduced emissions.
Safety Features
Get ready to experience more than 70 exciting safety and security perks that either come standard on your new Renegade or are available as add-ons. Adaptive cruise control can keep you safe by automatically adjusting driving speed to keep a preselected distance from the car in front of you. You can even plan a complete stop in advance! There's also a Blind Spot Monitoring system that helps you stay aware of what's happening around you, monitors your blind spot for extra protection, and offers sound and visual alerts.
Get ready for a fantastic ride in the country or the city, and let the 2019 Jeep Renegade take you away with security and power. Learn more at your local Dodge dealership.
Image with Some rights reserved by b0922307387