Our Top 5 Picks for Best Coney Dogs in Detroit
There's nothing like the way a Coney Island hot dog pops in your mouth when you bite into it. If you think you can only get these great dogs in New York City, however, think again. Detroit is famed for its Coney dogs. Check out our top five picks for the best places to get Coney dogs in Detroit and enjoy that famous flavor any time you like.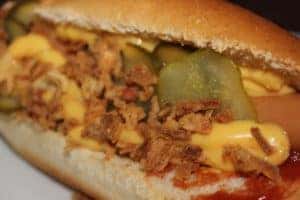 Grey Ghost Detroit
Grey Ghost Detroit is an all-American restaurant known for its delicious food, outstanding coffee, and great service. Not only can you get a Coney dog right off the grill at this place, but you can also bring your non-meat-eating friends along as it's also vegetarian-friendly. You can also enjoy cocktails and a superior beer and wine selection. Or, if you're in the mood for something more robust, you can have full meals ranging from seafood to steak. If you want it, you'll find it at Grey Ghost on Watson Street.
Dippy Dogs
Dippy Dogs is a food truck that offers a different kind of Coney dog. While you usually think of a Coney as a hot dog on a bun, the island is also famed for its deep-fried corn dogs, and Dippy Dogs specializes in some of the best corn dogs in Detroit. You can opt for a single dog, or you can go for one of their combo deals that combine Dippy Dogs with waffle fries and Detroit's own famous Faygo soda pop. This is the place to go for fun and casual fare.
Lafayette Coney Island
Lafayette Coney Island is a restaurant on Lafayette Boulevard that specializes in Coney dogs and other Coney-style foods. They've even got a Coney burger that you can enjoy if you're in the mood for something less dog and more ground. Other options here include classic gyros, taco salad, chili, wings, and chili cheese fries. It's another great casual, grab-and-eat restaurant that you and the kids are sure to love.
Duly's Place
Located in Southwest Detroit on Vernor Highway, Duly's Place is the spot for hot dogs of just about any variety. In addition to the classic Coney dog, here you can enjoy chili dogs, hot dogs with any fixins you want, and a range of other dishes from cheeseburgers to Mexican omelets. Duly's is open for breakfast, lunch, and dinner, so you're sure to find the dog for you at Duly's Place.
Zeff's Coney Island Restaurant
Located on Russell Street at the Eastern Market, Zeff's Coney Island Restaurant is among the most authentic Coney dog eateries outside of NYC. Grab a classic Coney dog or choose from unique takes like a Greek Coney or Zeff's Coney special. Don't forget a side of chili or clam chowder to go with it. If you're in the mood for something lighter, they also offer a selection of salads and wraps. Burger fans will enjoy such luxuries as a double-meat bacon cheeseburger.
These are just a few great Coney dog places in Detroit.