Top 5 Reasons to Own a 2020 Dodge Durango
The 2020 Dodge Durango is a powerful and versatile SUV that ticks off a lot of boxes. It combines performance, capability, comfort, and utility in a streamlined package with a lot of convenience and safety technology. Let's take a look at the top five reasons to own a 2020 Dodge Durango to see what makes this such a popular SUV.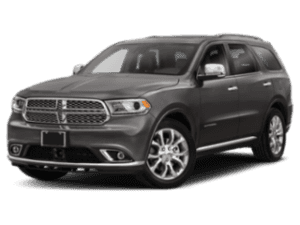 Engine and Performance
The standard engine on the Durango is a 3.6-liter V-6 that produces 293 horsepower and delivers strong, reliable power to tow up to 6,000 pounds. If you're looking for a little more power, you can opt for the 5.7-liter V-8 that produces 360 horsepower and boasts a towing capacity of up to 7,400 pounds. If you want even more muscle, there's a 6.4-liter V-8 option with 475 horsepower that can tow up to 8,700 pounds. Depending on the model, the Durango is available in rear- or all-wheel drive.
Safety Technology
The 2020 Dodge Durango offers several safety features as options, such as rain-sensing wiper blades, active lane control, lane-departure warning, blind-spot monitoring, automatic emergency braking, and adaptive cruise control. These features help keep you aware and protected in normal driving situations, such as maneuvering in a crowded parking lot or taking a long drive on the highway, by alerting you to other vehicles around you or monitoring your position in your lane. 
Infotainment Technology
The Durango comes with an array of infotainment technology to give you entertainment and information on the road. All models come with a 7-inch touch-screen infotainment system and two USB ports for plenty of media options, while some models include an 8.4-inch touch-screen system with built-in navigation, Alpine premium audio, and Apple CarPlay and Android Auto smartphone integration. With this feature, you have the option to stream music, podcasts, audiobooks, or other media from your phone's library or connected apps for endless entertainment on the road.
Exterior Details
One of the best benefits of owning a Durango is its signature look. Along with its strong appearance and sleek lines, the Durango features a split crosshair grille, the icon of Dodge muscle vehicles. It's also available with Mopar dual stripes, the classic racing stripes that stand out in the crowd. None of these styling touches interferes with the Durango's exceptional utility and practicality, however, which is evident with its multipurpose roof rack with 150 pounds of cargo-carrying capacity.
Interior Space
One of the most important features of an SUV is space, which is abundant in the Durango. With its many interior configuration options, you can adjust the seating area and cargo bay to ensure that there's plenty of space for extra passengers, luggage, or both. It has three rows and up to seven seats, giving passengers ample space, and the rear row has a 60/40-split-fold to make more room for cargo. There are also second-row fold-and-tumble seats that make it convenient and comfortable for passengers to get in and out.
If you're looking for an SUV that combines utility, comfort, and adventure in one stylish package, the 2020 Dodge Durango is a great choice.