Top Wedding Venues in Detroit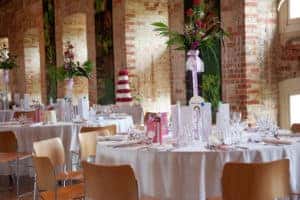 Choosing where to have your wedding is a huge decision. You need to make sure you stay within your budget, have room for all of your guests, and choose a spot that works with your personal tastes to help create the perfect day. There are numerous options in Detroit you can look at offering many different atmospheres and benefits. Here are some of the top wedding venues in the city.
The Gem Theater
The Gem Theater is a historic theater built in 1903 by a group of philanthropic women. In 1997, the whole building moved to its current location and underwent a complete renovation and restoration.
The venue offers both large and small event spaces with room for 80 guests and up to 300 guests, and you can even have your ceremony on stage if you want. Choose one of the all-inclusive wedding packages to help make planning the day easy with options that include entree service, parking, and premium bar service. This venue even has a covered outdoor space, a dressing room, a reception area, and wireless internet.
Crowne Plaza Detroit Downtown Riverfront Hotel
The Crowne Plaza Detroit Downtown Riverfront Hotel offers a beautiful space for your wedding. The venue accommodates 25 to 800 guests, so you can hold your event here no matter how large or small you want to make it. There are both indoor and outdoor event spaces. There is a dressing room for getting ready before your wedding as well as on-site accommodations so you and your guests can stay the night. Some rooms offer beautiful skyline views of the city.
The Colony Club Detroit
Book one of the beautiful ballrooms at the Colony Club Detroit for your special wedding day. The 3rd Floor Ballroom can hold up to 400 people. For a smaller event, the 4th Floor Ballroom has space for up to 150 guests. The all-inclusive wedding packages make planning easy and offer plated entree service and a high-end bar. The Colony Club sits near the Fox Theater, and the stadiums and the staff will help you from start to finish, including assistance with parking and catering.
The Henry Ford
The Henry Ford is a beautiful place to host a wedding. You can have your ceremony among the artifacts and beautiful architecture at the Henry Ford Museum of American Innovation. The museum plaza has room for up to 400 guests, or you can choose the Pennsylvania Courtyard for an open-air event which also has room for 400.
The Prechter Promenade makes a wonderful place for a reception or a pre-function area, and the Flexible Exhibit Gallery Lobby is the perfect cocktail space. With so many options at the Henry Ford, you can customize your event to make it perfect for the two of you.
Planning a wedding can be overwhelming, but deciding on any of these event venues can help make the whole process easier. The staff will take care of the details so you can focus on other things, such as your dress and planning the honeymoon.