Try Your Luck at These 4 Detroit Area Casinos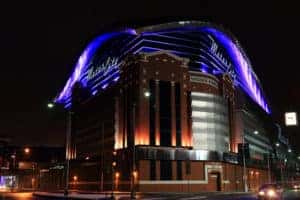 The city of Detroit is known for having an active and interesting nightlife. Whether you're a local resident or a visitor from out of town, if you haven't seen one of the city's various casinos, you haven't experienced everything the Detroit nightlife has to offer. There are casinos all over the city, and some are better than others.
When you're looking for some of the best gambling action in the city, try your luck at these four Detroit area casinos.
MGM Grand Detroit
In addition to having one of Detroit's best casino atmospheres, the MGM Grand Detroit offers patrons access to a hotel, live entertainment, and multiple restaurants, all under one roof. In the event that you ever tire of trying your luck at the casinos, you can enjoy additional activities and amenities, such as:
A fitness center
Pools
Spa treatments
A virtual golf course
Shopping
It is entirely possible to enjoy a fully self-contained vacation at the MGM Grand Detroit without ever leaving the resort.
Motor City Casino
Motor City Casino has many of the same attractions as the MGM Grand Detroit, including:
A large casino
On-site hotel accommodations
Spas
A fine dining restaurant
Live entertainment
While the two casinos may have similar attractions, Motor City Casino takes an entirely different approach and caters to a younger crowd with more active interests. The casino also hosts Club Metro, which is one of Detroit's most popular dance clubs. The Sound Board theater, which seats 1,500 people, features some of the area's most exciting live performances and Iridescence, located on the casino's 16th floor, is one of the best fine dining venues around.
Caesar's Windsor
If you've ever been to Vegas, you know all about the iconic Caesar's Palace casino. You may not have known that you don't have to take a trip to Sin City to experience some of the best gambling action in the world, though. Caesar's Windsor is an extension of the same world-famous casino located in Las Vegas. Like the other venues listed here, Caesar's Windsor also includes access to:
Hotel rooms
Restaurants
Live entertainment events
Greektown Casino
The Greektown Casino and Hotel is situated close to popular city attractions, nightlife scenes, shopping venues, and more. This casino also offers monthly promotions, matching bonuses, and prize drawings. At the time of this review, for example, patrons can enter to win a drawing for cash prizes up to $1,000 or a Harley Davidson. These ongoing promotions make Greektown Casino a popular spot for locals and tourists alike.
For most people, casinos don't immediately come to mind when they think about things to do in Detroit. If you pass up on the opportunity to experience some of the casinos in the area, though, you're missing out on some of the most exciting nightlife experiences the city has to offer. One of the best things about these Detroit area casinos is that they provide you with access to so much more than exciting gambling action.
Photo by Ross School of Business | Licensed by CC BY 2.0